Social Contribution Activities
Social Contribution Activities
Environmental Protection Activities
Participation in Greenship Action
Each year beginning from 2015, our company has conducted a forest environment preservation activity (Greenship Action). In order to protect the valuable nature in the Tokyo metro area, with the cooperation of NPOs and members of the local forestry industry, we perform thinning work and create access roads in the mountain forests of Ome City in Tokyo. Although cutting down trees may seem like environmental destruction, if the forest is left on its own, the trees will grow increasingly dense, resulting in a dark and unhealthy forest due to the lack of sunlight penetration. By identifying necessary and unnecessary trees, and removing the unnecessary ones, a suitable amount of sunlight can enter, restoring an environment that allows a diverse range of woodland life to coexist. This activity is a valuable opportunity for the participants to personally experience and understand the importance of contributing to society.
Recovery Support Activities
Participation in Activities to Support Recovery from the Great East Japan Earthquake
As part of our activities to support the recovery following the Great East Japan Earthquake, our company carried out actions to support the recovery of agriculture (removal of rubble from rice fields) in Kamaishi City during the first year, Rikuzentakata Town in the second year, Higashi Matsushima City in the third year, and Minamisanriku Town in Miyagi Prefecture in the fourth year (2014).
Through these activities, all participants were able to personally experience and understand the significance and importance of contributing to society.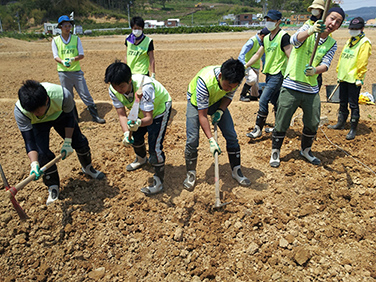 NST rolls out the Japan-India Institute for Manufacturing (JIM) initiative to support human resources development (HRD) in India
Our group company Neemrana Steel Service Center India (NSSI), which runs steel sheet processing business in the Indian state of Rajasthan, has long been committed to employee training. Such training is provided through the lecture course called "DOJO" and on-the-job training (OJT) in five departments: coil centers, press working, quality control, maintenance, and warehousing and shipping.
Against this background, we endorsed the concept of "Japan-India Institute for Manufacturing (JIM)*," an HRD project launched at the initiative of the Ministry of Economy, Trade and Industry of Japan and the Government of India. This is how we initiated our own initiative with a view to obtaining certification as a JIM. The aim is to train not only employees at NSSI but also other local young people who will support the future of India's manufacturing industry as part of our mission to contribute to society.
In January 2023, we accepted ten local training participants and launched an education program aimed at teaching knowledge and skills in manufacturing steel products. This led to the JIM certification in April 2023.
*

JIM is a HRD support initiative based on the Memorandum of Cooperation on the Manufacturing Skill Transfer Promotion Programme , which Japan and India signed in 2016. The goal is to train prospective shop floor leaders at Japanese companies in India by providing the Indian youth with the opportunity to learn skills in Japanese-style manufacturing and the ideas behind it. The target is to train 30,000 manufacturing personnel over a period of ten years.
Components of the education program
As the first step, the JIM at NSSI provides the lecture course called "DOJO" (a training hall in Japanese). DOJO encourages training participants to take the time to learn basic knowledge on quality control, manufacturing, maintenance, warehousing, and shipping, as well as Japanese-style thinking behind these processes, while stressing the importance of giving top priority to safety. Training participants learn in DOJO for 11 days first, followed by OJT. While they are at OJT, they also learn in DOJO every Friday in a one-year cycle.
DOJO was created in January 2017 to provide better employee education than ever before. Since then, DOJO has undergone a series of improvements through learning by doing. In June 2018, the course was expanded to enhance its content. In December 2022, it was updated to cope with the expanded lineup of products.
Learning skills through OJT
In OJT, participants are given instructions on how to handle machinery on the shop floor. They thus learn how to operate machines according to operation standards while checking important points in the process from the starting of such machines. As OJT progresses, participants get used to such operations. Not to become complacent, they are taught the importance of operation standards again so that they understand the value of strictly following set rules. By repeating this process, they gradually acquire skills. They may be allowed by their functional managers to stand alone.
What local participants have to say
"We learn many new valuable things from the training at NSSI. In the lecture course, we learn the basics. In OJT, we learn how to operate instruments and machines on the shop floor and acquire related skills every day. We believe that this training is a great help for our future and a good opportunity to improve our skills."
"Thanks to this training, we have started a new lifestyle. Our lifestyle used to be such that many members get up late in the morning. Now that we have joined NSSI, we get up and go to work on time. Our teachers and senior colleagues have taught us about good habits."
"We enjoy everyday work and learn how to lead a healthy life. Now, we spend far less time on a smartphone and have plenty of sleep. We learn a lot about such off-duty things as well."
"In addition, NSSI puts safety first. We, the members, always discuss operations that give top priority to safety. We have a very good work environment. We are grateful to NSSI and the JIM for having given us this opportunity."
JIM certification ceremony
On April 27, 2023, the Ministry of Economy, Trade and Industry (METI) held a ceremony in one of its meeting rooms to celebrate the METI certification of us as a JIM. Koshikawa Kazuhiro, Senior Managing Executive Officer at NST attended the ceremony. Also attended were Mr. Nakatani Shinichi, Senior Vice Minister of Economy, Trade and Industry; Mr. Tokiwa Mitsuo, Deputy Director-General for Trade, Economic Cooperation and Export of Agriculture, Forestry and Fishery Products ; and Mr. Sibi George, Ambassador of India to Japan.
<Address by Koshikawa at the ceremony (excerpts)>
"We have long believed that we need to contribute to India through developing local human resources while doing business in the country. This is why we endorsed the basic policy behind the Japan-India Institute for Manufacturing project. We are committed to moving this initiative forward with continued support of the authorities concerned, including relevant agencies in India and METI."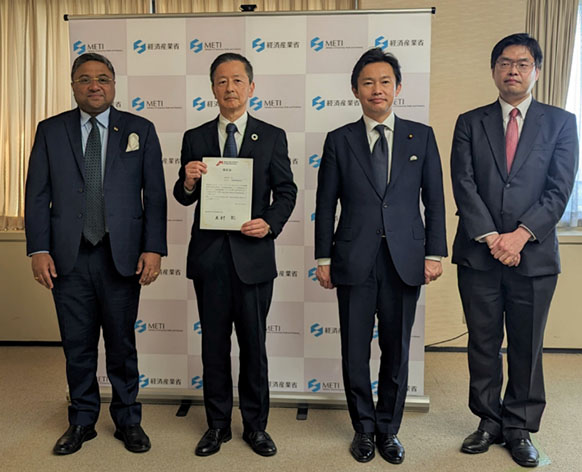 Training and utilizing people are high on our management agenda. We have established "Aiming to become the kind of organization that increasingly cultivates, utilizes, and values human resources and their talents" in our Corporate Philosophy, and the development and utilization of human resources is an important management theme. We are hiring employees from different backgrounds and working to prepare work environments where every individual can put their abilities to maximum use in their respective business areas.
Our JIM initiative is part of this commitment. Going forward, we will move ahead with business operations that play a bigger role in steel distribution in India. At the same time, we will redouble our efforts to contribute to society through HRD.
Community Service Activities in Myanmar
Our subsidiary Suitstar Garment Co., Ltd. in Myanmar, together with the company Myanster located adjacent to it, has carried out community service activities in the Bago Region a total of seven times starting in 2007.
Due to the lack of adequate health care facilities, medicines, and other supplies in the area, few people have regular checkups and there is not sufficient health management. In cooperation with a group of physicians from the Catholic hospital St. Vincent, which has sites located throughout Korea, and also with the general hospital operated by the local Bago government, free health checkups were provided for one week. Approximately 2,500 Bago residents were treated. Medicines were dispensed as required, and record booklets were given to each person for use in future health management.
Our company cooperated in helping conclude an agreement between the government and Korean sides, helping obtain the necessary licenses, providing attendants to the group of physicians, and providing support at the checkup sites.
In the future, our company intends to continue with service activities in close cooperation with the local community.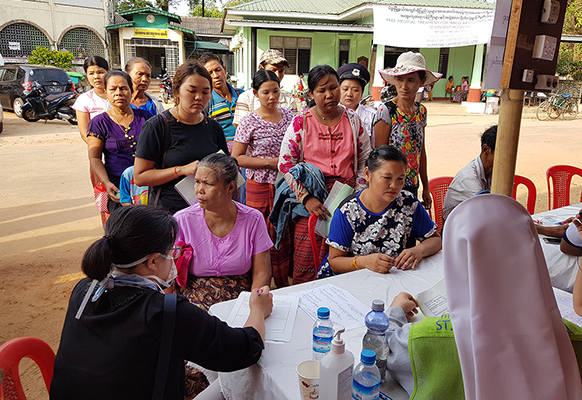 Cooperation with Company Visits and Career Experience Training for Overseas University Students
Our company cooperated with the Japan Career Exploration Program (JCEP) that was held as part of career training for students of the University of Hong Kong and the Hong Kong University of Science and Technology in 2017. This program was created in order to improve the overseas university students' understanding of the Japanese corporate culture and business environment so that they will consider Japanese companies when choosing a career in the future.
On the day of the program, we provide an explanation to the 39 participants concerning the history and functions of a "trading company" - a business type that is unique to Japan. The students then learned more about Japanese trading companies through group work, presentations, and other means.
In the future, we will continue to cooperate with career experience training and actively fulfill our corporate responsibilities to society.