Foodstuffs
Food Value creator
We are providing new food value and solutions that are environmentally-friendly and prioritize reliability and safety.
As we develop high value-added products and reinforce the departments dedicated to safety and quality control, we will further extend the food value chain and provide more precise answers to consumer needs.
Global Network of meat procurements
In the field of imported meats including beef, pork, and chicken - afield that the Foodstuffs Division pioneered, the division conducts stable importing in partnership with prominent overseas packers and production centers that provide integrated services from stock raising to processing. In this way we have always maintained a top share of the market.
Leveraging its global procurement capabilities, the Foodstuffs Division is further expanding its operations in the fields of meat, processed meat products, and processed agricultural and seafood products.
Programs for food reliability and safety
Based on the industry knowledge, on-site capabilities, and pioneering programs for food safety that we have developed in our primary business of imported meats, we provide high-quality, safe, and reliable food products that suit the tastes of Japanese consumers. We are also expanding global operations aimed at growing overseas markets. Through this business, we are contributing to the development of global food culture.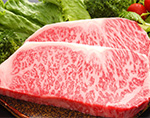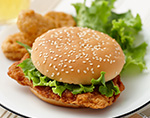 Beef, pork, chicken, and other meats including processed products
Shrimp, crabs, and other fishery products including processed products
Agricultural products and processed agricultural foods
Other food products