Midium-Term Management Plan 2020
1. Review of MTMP 2017 and Targets of Medium-Term Management Plan 2020
Review of Financial Performance
| ¥ billion | Targets FY2017 | Results FY2017 |
| --- | --- | --- |
| Sales | 2,300 | 2,062.3 |
| Ordinary Profit | 36.0 | 35.1 |
| Net Profit | 21.0 | 21.7 |
| ROE | Over 10% | 10.8% |
| Equity | Over 200 | 210.6 |
| Net D/E | Below 1.0 | 1.0 |
Completed
"Post Merger Integration"
Corporate Governance
Reinforcement of the Group Management Infrastructure
Integrated Human Resource System
Solid Financial and Profit Strength
Integrated Enterprise system and Data centers
2. Targets of Medium-Term Management Plan 2020
Structural Changes in Business Environment
Digital
Transformation
Change in
Global Market
Change in the
Social Environment
Moving Into
the Next Phase
Medium-Term Management Plan 2020
3. Fundamental Policy for MTMP 2020
Shifting Power to Growth Strategies.
Providing services and solutions that address changes in society and industry.
Pursuing Safety, Reliability and Quality, and Ensuring Legal Compliance.
Recruiting and Training the Next Generation of Employees Responsible for Our Corporate Future, and Ensuring that We Continue to be a Rewarding Workplace.
STEEL, INDUSTRIAL SUPPLY & INFRASTRUCTURE, TEXTILES, FOODSTUFFS
Contributing to Society by
Building a Well-Balanced Portfolio

| ¥ billion | MTMP 2020 |
| --- | --- |
| Sales | 2,800 |
| Ordinary Profit | 44 |
| Net Profit | 26 |
STEEL
"A New Path of Collaboration toward the Success
of Our Steel Business."
Sharing the strategy with NIPPON STEEL CORPORATION and Mitsui.
Expanding our value chain
Focusing Demand: Infrastructure and Automobile
Core Market: East Asia, ASEAN
Ordinary Profit Target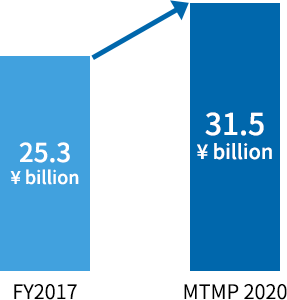 INDUSTRIAL SUPPLY & INFRASTRUCTURE
"To be the Top in its Business Niche in the World."
Aiming to become the top player in our global niche and strengthening our onsite capabilities.
Focusing on the automotive parts business , as well as the industrial park and power generation businesses.
Ordinary Profit Target
TEXTILES
"Remodeling the True Value of Our Service"
Remodeling the True Value of Our Service.
The use of digital technologies.
Promoting investments and alliance with "digital start-ups."
Ordinary Profit Target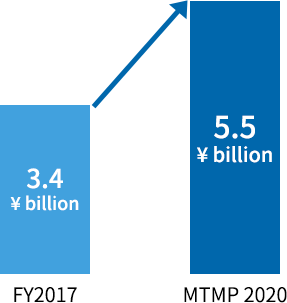 FOODSTUFFS
"Food Value Creator"
Aiming to become a food value creator that provides new value and safe and reliable solutions along with safety and reliability.
investments in the wholesale business
Strengthening relationships with suppliers including investment
Ordinary Profit Target
4. Investment Plan / Enhancing Human Assets / Financial Strategies and Return to Shareholders
Strengthen and Enhance the Value Chain
Through Various Measures Including M&A

Developing the Young NSTs Who Will Lead the Next Generation.
Ensuring Pleasant Workplaces and Rewarding Jobs.
Strengthen our Financial Position and Keeping our External Credit Rating (A).
FY2017
MTBP 2020
Net D/E
1.0times
Approx.

1.0

times
Equity ratio
27.0%

25 - 30%

ROE
10.8%
Approx.

10%